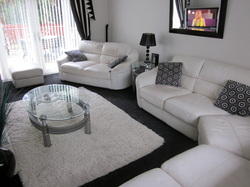 Business Terms:
Deposits: All confirmed electronic bookings will receive e-mail confirmation, please produce a copy of this on arrival.
"We do not store credit card details nor do we share customer details with any 3rd parties"

Reservations are only confirmed after receipt of credit or debit card details. Please note that your card will not be debited unless you fail to arrive or should you fail to cancel less than 7 days prior to the date of arrival. For more information on cancellations, please see our cancellation policy (below). Hogmanay and Special Events incur a minimum of one month's cancellation. Please note that on these events and selected high season weekends the minimum stay is 2 nights.

Reservations: Your room charges are paid on departure in full. We accept cash, Travellers Cheques and all major credit cards with the exception of American Express. Please note that all credit card payments are subject to a surcharge of 2%.

Cancellations: We operate a small, family run Bed & Breakfast establishment. Therefore, we would appreciate your understanding and consideration of our policy.

If a Guest requires to cancel a reservation for any reason they must notify us within the cancellation period. The Proprietors will attempt to re-book the room but if this is unsuccessful the Guest will not be entitled to a refund of any deposit paid and the following will apply:

*Cancellations up to 7 days prior to arrival date
No additional charge will be made for the booking of the reserved period. However, please note that an administration fee of £5.00 per person will apply.

*Cancellations 5 days or less prior to arrival date
The Guest will be responsible for the full cost of the booking for the reserved period unless the Proprietors find a suitable Guest, in which case a refund, less expenses and deposit, will be returned for the period booked. It may then be advisable for Guests to obtain travel insurance to cover unforeseen circumstances.

*Earlier than scheduled departures are classed as a cancellation and the same penalties apply.

Check-in: Check-in time is between 1400hrs and 2100hrs. Should you wish to arrive outwith these times, please let us know in advance and we will endeavour to accommodate your request if possible.

Check-out: Check-out time on day of departure is 1030hrs. Arrangements can be made to hold any luggage if necessary.

Smoking: Three Bridges Bed and Breakfast is a non-smoking Guest House and we do adhere strictly to our policy. The surcharge for smoking within the Guest House is £100.

Children: Prior arrangements must be discussed before booking

Pets: Sorry, we only welcome guide dogs and dogs for the hearing impaired.

Breakages: Please be aware that loss or non-return of security room key and fob will be charged at £50 from your credit details given at the time of booking.
The Guest will be responsible for the repair or replacement of any breakages, loss or damage and shall leave the room in a reasonable order. Guests shall be required to compensate for any excess cleaning or repairs required.

The number of persons using the accommodation is not to exceed the number booked into the room.

The Proprietors reserve the right to refuse any booking requests.

The Proprietors reserve the right to cancel any booking already made if the accommodation becomes unavailable for reasons out with their control. The maximum liability in such an event shall be a full refund of any monies paid.

Website: The Proprietors believe that the information held on this site is correct but cannot accept responsibility for errors or misunderstandings, nor the content of any other site linked from it.

The Proprietors reserve the right to alter or amend the amenities or facilities offered. Please feel free to check current facilities directly with the Proprietors.